"I want to live a life that is in harmony with the planet and all the other species that share this home with us" – Pamela Okutoyi
 I had an extre
mely humbling experience after talking to Pamela Okutoyi, an ambitious and hardworking lady who has dedicated her life towards educating others on the importance of the environment. Her passion and joy is unparalleled when she talks about her work and how she strives to make a difference towards others. 
Meher Bajaj (SmP Communications Manager)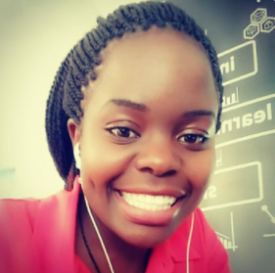 Can you tell our viewers about yourself and your background?
Hi, my name is Pam! I am an environmentalist passionately and professionally, and I love this precious planet Earth.
For me, it's been a very long journey of trial and error, shuffling my way through the sustainability space and finally, I can confidently say that I have found my niche.
I wouldn't describe myself as super green – just someone who tries to do their best. I do not live in a self-built eco house – just a normal rental house where I try to make my energy and water use as efficient as I can. I do not own any fancy car, not to mention an electric car, still coping with our public transport drama. I simply live on a modest budget and try to make the most economical and ethical choices I can with my budget.
Sustainability has not always been my interest. Ours was love at first sight. I graduated from the Technical University of Kenya with a Bachelor of Technology in Environmental Resource Management in 2018. Since then I've worked continuously in the sustainability space.
I love collaborating with businesses to write content that they can be proud of. Currently, I work full time for Kenya Climate Innovation Center Consulting, as a sustainability researcher and writer and work part-time on The Eco-Mindset.
When I'm not writing, I love discovering our wild natural beauty, watching movies and living my best life.
How would you describe your journey in writing?
I learned the value of storytelling and simplicity when I was a young girl. I have always been a passionate writer ever since. While studying for my first degree, I engaged in a lot of research, report writing, creative writing competitions and public speaking. I discovered that I get a real buzz writing good content for websites, blogs, and ghostwriting. 
After graduation, I went on to work for Impact Africa as a sustainability writer. I was also contracted by Iron and steel Africa Review to manage their publications on a part-time basis. Later on, I started doing freelance writing for newspapers and magazines.
What has been your most successful blog post? Why do you think it was appealing?
I can't say that there is one blog post that is the most exciting because my blog posts are not a competition. My blog posts are about sharing people's unique stories with the world and making people value the importance of sustainability through their stories. To me, every story is important, and I value each blog post that I publish. That is why every post has been successful in its own way. 
What inspired you to start blogging about sustainability?
During my campus life, there was very little mention of sustainability and I struggled to understand what that complex word really meant. It was really hard to have a conversation with anyone about it. 
I came to realize that in reality, there was not a lot of information available to the public on sustainability. This inspired me to start blogging because I wanted to provide that knowledge to people. I wanted to give the opportunity for others to learn about the importance of sustainability and their role to make the world a better place. 
My goal is to educate people, change their mindset and get them to act. 
The website ASM is a great source to learn about what businesses are doing to become more sustainable, however, ASM is more than just a website, can you share some of the sustainability services that ASM has to offer?
ASM aims to break down complex sustainability issues and turn them into interactive stories that people can relate to and understand what others are doing within the sustainability space. 
At ASM we create content that tackles challenging sustainability concepts, providing a news outlet that discusses the governmental, company and individual efforts on sustainability. Our publications inform the larger public what opportunities are available and how they can be part of the change in the world. 
The information outlets include the Africa Sustainability Matters website, the Africa Sustainability TV, the ASM newsletter and the ASM Magazine. 
Our goal is to make people better. We believe that every business owner has a story to tell and a passion that got them started in the first place. We write content that you can be proud of. We tell stories of businesses in the sustainability space in a way that will connect them to customers and generate profit while doing good to the planet. 
One example of what we do; ASM  works on various projects, one of them is dubbed Sustainability 'Mtaani', a Swahili word for "streets". For this project, the ASM team takes to the streets and talks to the local people to get their first-hand opinion on sustainability. The idea behind the project is to gather information and get first-hand accounts on what people know so that ASM can bridge the gap between what the people understand and what they don't. 
There are many people who want to become more sustainable but do not know how to start, what would you recommend to them?
Education is the first step towards becoming sustainable. Many people ask questions like "why are you telling me to stop using plastic? or why are you telling me to stop cutting down trees?" Without knowledge on such topics, people will remain unknowing and unable to make informed decisions. At ASM we offer you information that facilitates conscious decision making. When you read about climate change, you realize that you have an important role to play within the larger picture. One cannot be action-oriented without understanding the space first.
On my personal blog, The Eco-Mindset, I mostly talk about how as an individual, you can live an eco-friendly lifestyle. I have been able to save money and attain a sense of peace knowing that my small lifestyle changes are attributing towards a greater good. I'm convinced that if we all join in the fight for a better planet, we shall achieve greater impact.  
Want to reach Pamela?
ASM website: https://africasustainabilitymatters.com/
The Eco-Mindset blog: https://5f29ab757f8b3.site123.me/
Email: pamelaokutoyi@gmail.com
LinkedIn: Pamela Okutoyi
Twitter: @pamela_okutoyi
Facebook: Pamela Okutoyi