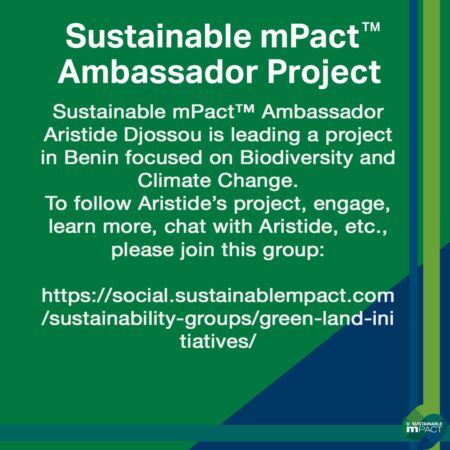 Aristide Djossou from Benin is leading a reforestation project focused on Biodiversity and Climate Change. 
Having been a Sustainable mPact™ Ambassador since the Summer of 2020, Aristide has many times generously shared his insights and experiences from leading this project with other people in the SmP network. 
We are now delighted and excited to announce that Sustainable mPact™ will support and promote Aristide's project. More information will follow but for now we invite you to join Aristide's discussion forum on the Sustainable mPact™ online community for sustainability to see the start of his new project, engage, learn more, ask questions to Aristide and his team and show your support for his important project.
Welcome to join Aristide's group here:
https://social.sustainablempact.com/sustainability-groups/green-land-initiatives/